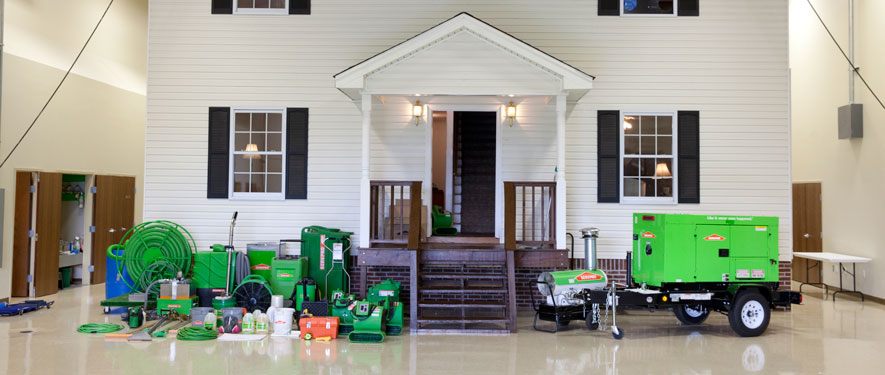 Advanced Technology and Techniques
Thermal imaging technology allows restoration companies like SERVPRO of Hazleton/Dallas/Harvey's Lake the ability to determine exactly what is wet and what is dry. In the most basic of terms, thermal imaging allows you too see an object's heat radiating off itself. Thermal cameras more or less record the temperature of various objects in the frame, and then assign each temperature a shade of a color, which lets you see how much heat its radiating compared to objects around it.
Colder temperatures are often given a shade of blue, purple, or green, while warmer temperatures can be assigned a shade of red, orange, or yellow. For example, in the image at the top of this post, you'll notice the person is covered in shades of red, orange, and yellow, while other areas are blue and purple. That's because he is radiating more heat than surrounding objects.
This technology allow SERVPRO Hazleton/Dallas/Harvey's Lake certified water restoration technicians the ability to concentrate on the wet areas saving time and money by knowing exactly what to address. It also ensues that we do not miss any areas and will also confirm when things are dry ensuring proper and professional mitigation services.
Technology like thermal imaging is just one reason that insurance companies choose SERVPRO of Hazleton/Dallas/Harvey's Lake as their chosen restoration company. We are emergency services company available 24/7 servicing the Back Mountain/Western Luzerne County area.
Moisture Detection and Measurement Equipment
Scientific drying principles rely upon specialized equipment to detect, measure, and monitor a property's moisture levels. Recent advances, like infrared cameras, can help us detect water through a wall, ceiling, or floor.
An infrared camera may be used to identify water location for thorough water removal.
Sensitive moisture detectors, hygrometers, and other meters measure the extent of moisture saturation
Water Extraction Equipment
Powerful extraction equipment speeds the drying process by removing the bulk of the water from your home or business.
Submersible and gas-powered pumps for continuous pumping of high-level water. 
Truck-mounted and portable extraction units perform efficient water removal.
Drying Equipment
Industrial strength air movers and dehumidifiers are needed to remove the remaining moisture from ceiling, walls, and floors of your home or business. Proper drying helps to prevent swelling and warping of floors, walls, and furniture.
High-speed air movers causes moisture to evaporate at a faster pace
Industrial grade dehumidifiers pull the water vapor from the air.
Odor Removal and Deodorization
Water and fire damage often causes powerful odors. The machines we use remove airborne contaminants and control the air quality during the restoration and cleanup process.
Air scrubbers
Thermal foggers and deodorization agents
Sanitizing Agents, Germicides, and Anti-Microbial Treatments
The use of OSHA-approved cleaning agents may be needed to clean and remove odors and/or contaminants on your property.
Deodorization products control odors from excessive moisture.
Disinfection products stop the growth of bacteria, fungi, mildew, and other harmful microorganisms.